I am not one to be able to stick with "themes" or weekly subject posts. I tend to get bored with routines, I actually love change. Am I weird? I have to take different routes to work and back or else I get bored out of my mind. Yes, it actually bothers me to see the same scenery over and over. I also am the same way with other things in my life. I can't eat the same foods all the time even if I really like them. I have been trying lately though to embrace good habits such as reading my Bible daily, doing personal Bible studies and reading Christian living books. I love to read and can devour a book a day if I have the time. When I was a kid, I would read 2 books a day. I would hunker down in my room and get really engrossed in the book. So much that I tuned out everything going on around me. I felt like I was right in the story.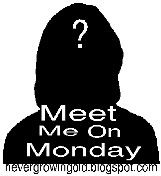 Ok enough of that...back to what this post is about. "Meet me on Monday". A friend of mine does this weekly on her blog and today I am doing it. Now, don't expect it to be here every Monday :) So, just think of it as a nice surprise when it does show up.
1. Did you watch the Superbowl?
Nope, not even 1 second of it. I don't care for football. My hubby watched it though. I wasn't feeling too good anyways and hit the hay at 8pm.
2. What is the last book that you read?
Right now, I am reading a few books. I used to only focus on one book in the past but am trying something different (there goes that thing about me having to mix things up all the time). I am re-reading " A woman after God's own heart" by Elizabeth George, "Life Management for busy women" also by Elizabeth George, and my Bible which is a study Bible.
3. What is your favorite kind of cake?
Simple. Anything chocolate!
4. Do you snore?
My hubby says I lightly snore, more like a deep breathing with a little grumble.
5. Do you play an instrument?
No but wish I did. I would love to learn the piano or violin. Also, classical guitar.
Sorry it was so boring but am in a rush. I hope my next "meet me on Monday" is more exciting for you!!